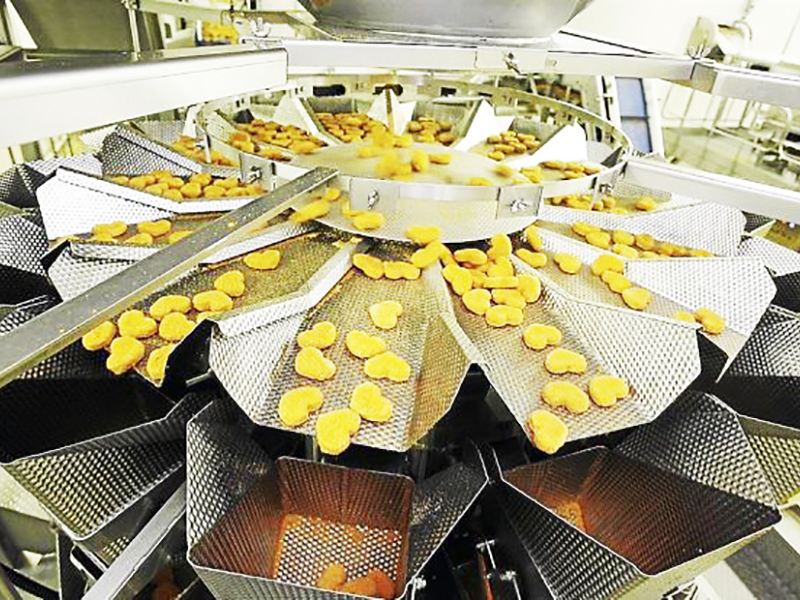 CP Holdings Malaysia Sdn Bhd is ahead of the curve when it comes to poultry processing in Malaysia, and a visit to its plant in the Senawang Industrial Estate in Seremban shows why this is so.
The facility ranks as one of the cleanest, most automated and most effective plants for producing processed chicken products.
Modern sanitation and clean-air technology is used throughout the facility, and hygiene standards can be seen on everything within the plant, from the walls, trays, processing equipment, to the air and personnel.
No wonder CP Holdings' president Pratan Jongpun takes pride in saying that CP plant adopts a resort style atmosphere.
"We are proud of our plant's professional hygiene and its proper state of sanitation. Even our laboratory regulations are strictly adhered to," said Pratan who has been posted here since October last year.
In fact CP Holdings (M) Sdn Bhd is the first poultry processing company in Southeast Asia and Malaysia to be awarded the prestigious ISO 22000:2005 certification in Food Safety Management.
Their range of product consists of frozen and chilled products and they market their products under '5 Star', 'CP', 'Champ' and 'Ayam Pertiwi' brands.
They currently have three plants located at Senawang (Negeri Sembilan), which includes Senawang Food Division, Senawang Processing Plant, and Senawang Rendering Plant.
According to Pratan, their long-term objective is to develop CP Product to be a successful brand.
"Our marketing strategy has always been to please our customers. Our consistent deliveries of quality food product have made us very popular among our customers. And we always believe that our loyal customers are our ambassadors," said Pratan who studied Agriculture at the Chiangmai University.
Pratan said, over the years CP has managed to develop the corporate brand along their winning vision and tagline 'Kitchen of the world."
"We have carried out a variety of tried and tested marketing strategies and we are determined to produce a successful product that would be a hit locally and win the hearts of the Malaysians. So far, we have managed to create a unique taste with 14 of our products and each of them have an individual brand identity," he said.
Pratan is confident that anyone who tries CP products will be hooked.
"CP products are for anyone and everyone because our range caters for all tastes. Besides our mouth-watering fried chicken, we have other options like the delicious nuggets and ready to eat meals. After you have tried them, you would understand what it means to experience our products," said Pratan who speaks fluent Indonesian dialect after he was posted to Jakarta for 10 years to develop the CP brand.
CP is Charoen Pokphand in Thai language, which means "prosperity business". Charoen Pokphand Group (CP Group) with headquarters in Bangkok, Thailand, was founded in 1921 and is one of the Asia's leading conglomerates. It started its activities in Thailand as an agriculture-industry company. Now it has become an international agriculture-industry and technology company in many developing countries such as China as well as many European countries.
The CP Group, with investments in more than 60 countries, and employees of over 300,000 has accomplished a revenue of 20 billion dollars with activities in nine different sectors like seed-fertilizer, industry, seafood, international trade, marketing-distribution, telecommunication, automotive-industry and real estate with an ongoing focus on agricultural industries.
The CP Group takes second place in the world with its weekly broiler chick production of 26 million while being the biggest animal food producer in the world with an annual production of 23.2 million tons.
"To succeed, we are taught to strongly hold on to the six investment philosophies of CP Group, which among others, we should strive to benefit the country, benefit the people and benefit to the company," said Pratan who joined the CP Group in the production department when he was 23 years old.
CP Group Malaysia started its business in 1974 primarily in the poultry integration industry and is now one of the market leaders of the Agro Industry and Food Business sector, particularly livestock and aquaculture integrated ventures from feeds, farms to foods.
The company is fully expanding their productivity in animal feed, poultry breeding, poultry farming, processed foods, layer and commercial eggs, fresh marts and food kiosk. Their main office is located in Port Klang and has branches in Johor, Melaka, Negeri Sembilan, Selangor, Kuala Lumpur, Pahang, Perak, Pulau Pinang, Kelantan and Sarawak.
The Agro Industry & Foods Business Group consists of five subsidiaries, namely Charoen Pokphand Holding (Malaysia) Sdn Bhd, Avian Farm (Malaysia) Sdn Bhd, Charoen Pokphand Jaya Farm (M) Sdn Bhd, Teck Huat Farming Sdn Bhd and PK Agro Industrial Products (M) Sdn Bhd. They also collaborate with Pertanian Pertiwi Sdn Bhd for fresh marts and kiosk businesses. There are currently 11 farms located all over Malaysia.
"All our products use only the freshest produce and they are stored and produced in the cleanest of environment. Our motto has always been to go to the extra mile for quality and excellence in all things," said Pratan.
CP Malaysia promotes Halal slaughter in 100 percent of its poultry production. All the chickens are slaughtered according to Islamic regulations and certified by JAKIM (Department of Islamic Development Malaysia).
"We have always exercised the ritualised practice of slaughter and butchering. Besides our strictly Halal meat, we exercise transparency and freshness of our products. All our facilities, operating standards and the slaughtering of chickens are inspected and certified by JAKIM. I'm sure the Muslim community welcomes this accreditation," said Pratan.
According to Pratan, CP farms are built based on closed and evaporative cooling system. The closed system is based on bio-security technology to prevent possible entry of potential disease carries. Evaporative cooling system maintains suitable temperature in the housing unit. To achieve higher quality with higher efficiency, they conduct a few food inspection steps.
They currently have two labs in Labu and Senawang, Negeri Sembilan.
Next year, CP Malaysia is going to focus on its Ready-to-Eat products, which will be inspired by the local cuisine, Thais and Asians.
The company has since launched three different ranges of products, which includes the Spaghetti range (chicken sauce, mushroom and carbonara), Thai cuisine (the MIFT Award winning product, the chicken tom yum with rice) and Malaysian delights (Nasi Lemak with chicken rending, kampung fried rice, American fried rice and sausage fried rice) in microwave packs and the response have been overwhelming.
"Ready-cooked meals will give us more value. With the strong distribution network like Giant, AEON and Tesco, CP Malaysia is targeting to expand its Ready-to-Eat products to other convenient stores and petrol stations," said Pratan who has been with the CP Group for the last 30 years.
While the other premium snack products include the crispy chicken finger, Gaijor Dim Sum Halal and Mexican BBQ Chicken.
To date CP Malaysian has invested in developing the agro industries, aquaculture and food business such as animal feed production, shrimp and poultry farming, shrimp and poultry processing and its value added products.
"We are all geared up to develop Malaysia as a Halal-hub by 2015 with the main aim of exporting our products to the Muslim countries," said Pratan.
CP Malaysia currently has 4700 staff and Pratan said, the company process job applicants like it process poultry. The emphasis is on quality.
"CP selects the people. We want quality and skilled workers who have speed, not slow people. We are in a business where we have to improve all the time. We should not say we are the best even if we are.
"Tomorrow's performance has to be better than today so that we are always improving ourselves. There is no time to celebrate. That way we are always moving ahead," said Pratan who believes in the teaching and philosophy of CP Group guru, Prof Dr Noel M. Tichy, who is also regarded as one of the top 10 management gurus.
He added, "We were taught that everyone should be a leader. That's why we have the LDL programme (Leaders developing leaders) training."
By next year, CP Malaysia plans to have 3 CP Fresh marts, allocates 200 community freezers, placed 1000 kiosks and provide their products to 1700 convenient stores all over the country.
"By aggressively promoting food business next year and carrying out all the projects, we expect a 12% revenue growth. We are also spending 100 million for our boiler farm in Desaru, Johor Baharu and we've just rented a 20 acres feed mill in Pasir Gudang.
"All these have provided job opportunities for a lot of Malaysians. We would like to thank the government for the fast growth of the poultry industry," said Pratan who once lead the CP Group team to explore business opportunities in five African countries.
To stay ahead as one of the most productive poultry producing in this region, CP Malaysia has its own strategy of expansion.
"We have to pursue the right growth opportunities and avoid the wrong ones. We have to be disciplined about or core business. We are always developing and restructuring our marketing strategy. All this will add to our growth and support," said Pratan.